Each year on September 30, people across Canada recognize the harmful and traumatic history of the residential school system and honour survivors and those who were impacted. At our mine sites, teams worked to organize meaningful activities as part of New Gold's commitment to playing a role in reconciliation.
New Gold's Rainy River Mine in Northwestern Ontario is situated on the traditional lands of Treaty #3 Anishinaabe Communities in Northwestern Ontario. Employees there created information boards posted around the site and attended crew meetings providing education to other employees. Local ceremonies and events were attended and advertised by employees. The team also distributed bulletins highlighting the stories of survivors like Debra Courchene, Douglas Hyacinth Eustache, Clifford Quah, Cora Voyageur and Rose Grace Miller, as well as language lessons, like the Ojibwe phrase "Gichi–Apiitendaagoziwa Gakina Abinoonjiyag" meaning "Every Child Matters" courtesy of speaker and author James Vukelich Kaagegaabaw.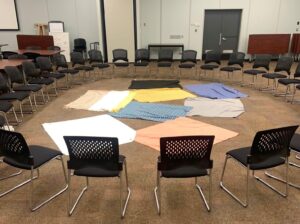 New Gold's New Afton Mine in Kamloops, British Columbia is situated within the traditional territory of the Stk'emlúpsemc te Secwépemc Nation. The team at New Afton partnered with Secwépemc storyteller Kenthen Thomas, a member of the Neskonlith Indian Band. Kenthen shared a Secwépemc Story or "Stsepetkwll", meaning "Legends that Teach", which are stories that provide entertainment, important life lessons, and anecdotes about all the creatures found on the land. These legends have been passed down through Kenthen's family for generations and feature the animals, birds and fish that were once integral to the lives of the original residents of the region. A number of employees also participated in a blanket exercise which aimed to build understanding about the shared history of non-Indigenous and Indigenous people in Canada.
At New Gold's corporate office, employees attended a screening of a documentary that examined the impacts of Tk'emlúps te Secwépemc's discovery of unmarked graves on the grounds of the former Kamloops Residential School. Employees across the company were encouraged to wear their orange shirts to show their support for the Every Child Matters movements and Orange Shirt Day, and a number of employees contributed to a company video sharing their reflections on the meaning of National Day for Truth and Reconciliation to them.
Through continued acknowledgement, discussion, education, and awareness of the impacts of the residential school system on Indigenous Peoples, we can continue to walk the path toward reconciliation.